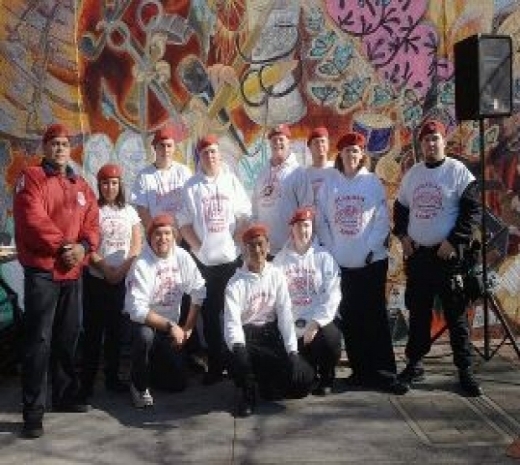 As a non-profit volunteer driven organization, the Guardian Angels have helped provide security and support to communities in need for over 25 years.

In cooperation with local police, community organizations, neighborhood watch groups, schools, and individuals we help build stronger and safer communities and inspire positive change.

Primarily we support communities through our neighborhood patrols and our education initiatives with children and families about violence prevention and safety awareness. We also strive to act as role models to youth and motivate individuals to join together to transform their community into a better place.

Our Mission
We believe that change happens from the ground up and, as such, we take our lead from those communities that contact us.
We are a dedicated group of volunteers determined to help where requested, mentor when needed, and give hope while serving the county of Solano. Our work here has only begun. But with the support of the Various City Police Department's and our partnership with the Police Community Relations Committee and several other community groups, we are confident and committed to our goals.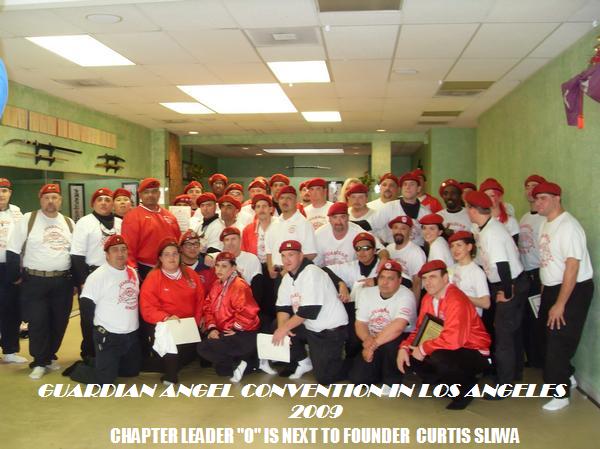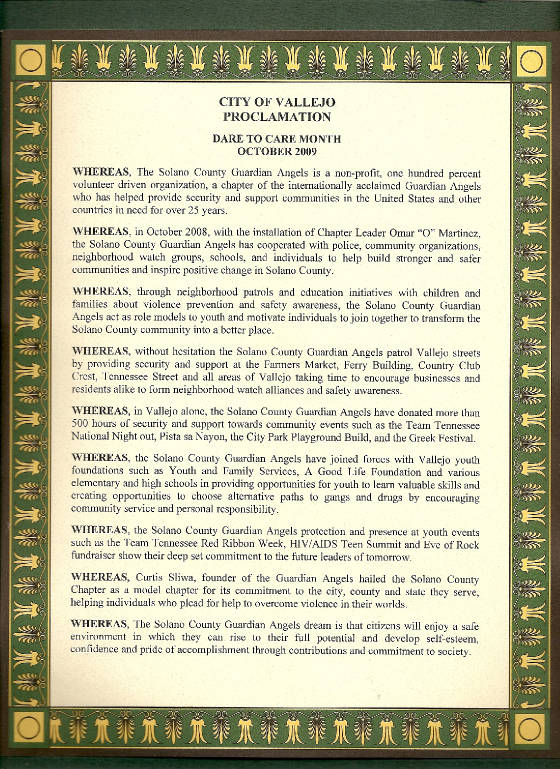 JOIN THE GUARDIAN ANGELS OF SOLANO COUNTY TODAY!
The SOLANO COUNTY Based Guardian Angels are looking for volunteers to patrol surrounding neighborhoods. We are also looking for volunteers to help out with fund raising,training IE: first aid, Law, Self Defense, Administration, and a multitude of other things. So If your male, female, 18 years of age or older and believe we can curve the violence thats plagues us all then we are looking for YOU!!! whether you have a lot of time to spare or just few hours a week we can use YOU!! The Guardian Angels is 100% volunteer,From the chapter leader to the new recruit no one gets compensated for there services. We work closely with the Police, Transit Police and community leaders. For more information please contact us via email, or feel free to gives us a call (707) 712-7267. Help us keep ignorance and violence from SOLANO COUNTY, join today!!!!
You learn: Community Relations skills- Conflict Resolution- Teamwork and Leadership skills- Empowerment
You receive: Free Training - Free Self Defense
COME JOIN US TODAY!

IF YOU ARE:

INTERESTED IN CRIME PREVENTION
SERIOUS ABOUT MAKING A DIFFERENCE
EAGER TO LEARN NEW SKILLS
IN NEED OF COMMUNITY HOURS
DRUG FREE

WE WILL TRAIN YOU:

LEADERSHIP SKILLS
EMERGENCY FIRST AID / CPR
MARTIAL ARTS / SELF DEFENSE
COMMUNICATION SKILLS

DO SOMETHING - B'MORE

MAKE A DIFFENCE IN YOUR COMMUNITY



Chapter Leader
(707)558-9458
SOLANO COUNTY CHAPTER
GUARDIAN ANGELS
MAKING A DIFFERENCE
Guardian Angels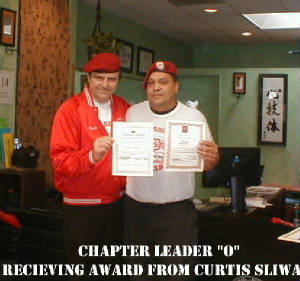 http://www.guardianangels.org/